Reviews
Aw Bridal Review (Read This First!)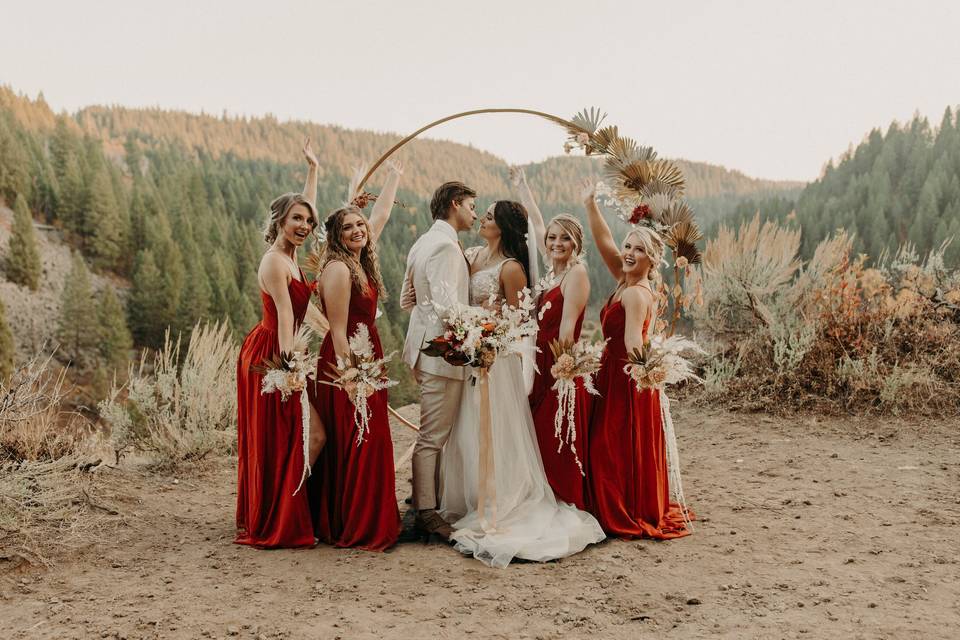 Last Updated on: August 9, 2022
Aw Bridal is one phenomenal place for all the brides to be and their bridesmaids who do not plan on spending a fortune on a bridal dress. Aw Bridal deals in wedding gowns, bridesmaid and mother of the bride dresses. Additionally, they also deal in gorgeous and dainty bridal accessories that make it a one stop shop for your bridal look.
Aw Bridal has spread its network across the globe and believes in providing happiness, comfort, and affordability to all its customers. They offer rapid customization of the dresses so you can craft your look to perfection and walk down the aisle in your dream attire.
Anyway, that's enough of an introduction. Let's go ahead and find out if they're really a worthy option for your big day!
Is Aw Bridal Legit?
Aw Bridal has been around for quite long now. Ever since its launch in 2011, Aw Bridal has managed to gain a splendid and kinda spotless reputation. They're serving their customers across many countries and all of them seem to be equally happy. Image
However, a bit of a sneak peek into the Google Trends suggests they're not really popular right now. Even though they should be.
Anyway, looks like Aw Bridal is kinda underrated at the moment. But that doesn't change the fact that they're a legit brand and you should definitely shop from them!
Online Shopping Experience
Online shopping for a bridal dress sounds a little complicated. You cannot even try out the dress of your dreams and all those fittings … who's going to take care of that? But gladly, Aw Bridal has done a splendid job to make the shopping experience easy-breezy for all the brides to be.
Their website is super easy to browse. On the home page you'll see a few categories such as one for the brides, for the bridesmaid, moms, wedding guests, accessories, and ceremony. You can take advantage from the weekly deals as well as shop for some free swatches so you can have the perfect color and fabric for your dress.
They do not have a huge inventory for bridal dresses which is a downside for them. But whatever they have in store is absolutely gorgeous. Also, they have sufficient amount of filtering options as well. For instance, you can filter the bridal gowns according to their fabric, neckline, back detail, silhouette, and sleeves etc.
All the essential accessories such as tiaras and crowns, hair vines, hair pins, combs and clips, bridesmaid robes, sashes – in short everything that you'd need to dress up for your big day is available at Aw Bridal. They also offer free customization which means you can tailor your dress to perfection within 5 to 7 days.
Lastly, once you're done shopping you can pay via various methods. Acceptable payment methods at Aw Bridal are PayPal, Western Union, and Credit Cards (VISA, MasterCard, Amex, and Discover).
Overall, shopping online from Aw Bridal is very convenient. They've made the process of shopping easier with the availability of custom tailoring and free swatches. So there's not much to worry about when you're shopping from them.
Pricing
Aw Bridal is a star when it comes to pricing. If you don't want a bridal dress that'd cost you an arm and leg, then you shouldn't miss out on this splendid online store.
They offer all your big day essentials at unbeatable prices. You can find beautiful bridal gowns, bridesmaid dresses, and accessories at the best prices.
So let's check out what their price range looks like.
First of all, I browsed through their bridal gowns. They don't have a huge collection but you have to have a look at the gorgeous dresses and their unbelievable prices. The starting price for bridal gowns at Aw Bridal is $320 and it can go up to $810 for more detailed and lacy dresses.
Like this gorgeous dress with an A-line silhouette retails for $347 only.
The collection for bridesmaid dresses is huge. You'll find around 300+ dresses. Additionally, you'll also get a multitude of color options for each dress. Bridesmaid dresses are available at unbelievably low prices.
The starting prices for bridesmaid dresses at Aw Bridal is $79. While the most expensive dress will only cost you around $115 only.
Similarly, they have an amazing collection of meticulously crafted accessories that are available at very pocket friendly prices. Like this gorgeous headband costs around $14 only.
And this dainty luxury leaves tiara is $11.99.
To sum up, Aw Bridal isn't the place that'll break your bank just; over a single piece of clothing. They offer fair prices for spectacular dresses and accessories and I guess there's no reason you shouldn't buy from them.
Quality
Dresses at Aw Bridal are up to par in terms of their quality as well. And I think there can't be anything better than finding top tier quality at affordable prices.
All the dresses are uniquely crafted to perfection with beautiful details. Some of their dresses are handcrafted for exclusive detailing and embellishments that makes it the dress of your dreams.
The dresses look as beautiful in real life as they are at their website. The colors are pretty much accurate but if you have any concerns you can get the free swatches for color confirmation. The laces are very exquisite and soft.
The dresses are stunning, without a doubt. The quality of the fabric, the tailoring, and the attention to all little details makes every dress worth the money.
And it's not that only I am raving about their quality. They have a splendid reputation among majority of their customers. Only a negligible amount of people have had unfortunate experiences with Aw Bridal.
The better part of their clientele believes that they're a great place to shop for evening dresses, bridesmaid and bridal gowns. Everything is high quality and hence, gives a tremendous value for money.
Store Location
Aw Bridal does not have a physical store yet. And I believe that's the reason they've not gained the popularity they deserve. Because of course not everybody got the nerves to shop online for a bridal dress. Sounds like a lot of risk, to me at least.
But anyway, they offer splendid online services which kinda compensate for the lack of a physical storefront. If you're worried about the color or fabric, you always have the option to order free swatches. If you're worried about the fitting, you can have your dress customized for free by providing measurements yourself.
But for all of this to work out within time, you'll need to start your shopping spree quite ahead of the ceremony.
Shipping
Location
Although Aw Bridal is based in USA, the shipping origin is China. All their items are shipped from China to different parts of the world. They claim to offer shipping to North America, Australia, UK and many European countries.
However, I'm afraid that the list of European countries is limited to France, Germany, and Italy only, as mentioned on their website. Anyway, they offer expedited as well as economy shipping. But shipping is not available for PO Box, APO/FPO military addresses.
Charges
Aw Bridal offers two kinds of shipping; expedited and economy shipping. And the shipping costs vary according to that as well as the type of your order.
If you're purchasing a bridesmaid dress, economy shipping will cost you around $12 per piece while expedited shipping will be $17.99 per piece.
For bridal gowns, freight charges will be $29.99 per piece. While for accessories, economy and expedited shipping cost would be $3.99 and $6.99 per piece, respectively.
Custom charges are usually included in the freight cost so you don't have to worry about that. And lastly, in case you and your bridesmaids decide to buy from Aw Bridal, you can be eligible for free shipping because they eliminate shipping charges for orders with 3 or more dresses.
Return Policy
They offer a 30 day standard return policy that allows you to initiate a return in case you're not satisfied with your purchase. The items should be unworn, unwashed, original packaging as well as no tags shall be removed to be eligible for a return.
If an item is damaged, defective or incorrect upon arrival, you'll only have 48 hours to file a complaint and initiate the return process with proofs.
Some items are not eligible for returns including all made to order dresses, sale items, customized items, and bridal gowns.
After confirmation of return/exchange, you'll be informed via email. And refunds are usually processed within 15 days.
All in all, the return policy is quite basic. And returns claims are easily processed if filed within time. To avoid the hassle of returns, you can get free swatches so your actual item can be perfect upon arrival.
Customer Support
The customer support at Aw Bridal is very helpful and professional. They deal with all your concerns and questions in the most respectable and timely manner.
For any queries regarding fittings, customization, or fabrics etc. you can easily reach out to their customer support team and have all your concerns addressed.
Also, they're also active on other reviewing forums and platforms where they readily respond to complaints or appreciations, both equally.
Find all the contact details of Aw Bridal here. You can reach out to them via Call, Email, or the contact form on their website.
Aw Bridal Customer Reviews
Aw bridal has a marvelous reputation over the internet. All their customers seem to be satisfied from their service, quality as well as price range. I was really glad to see such a spotless reputation because I don't get to see that much. But turns out Aw Bridal is doing its job successfully and making all the brides and their bridesmaid happy with their services.
Like this person on Wedding Wire said something about her lovely experience:
And this super nice customer who shared her beautiful pictures at WeddingWire:
While negative reviews like this are extremely rare
Final Verdict
Aw Bridal is an amazing store to shop for all your bridal accessories and dresses. The bridesmaid dresses collection is stunning and can also be used as evening party dresses. Their quality is excellent and the prices are quite fair. The service is also par excellence. So if you ask me, I'd recommend Aw Bridal a hundred percent. Rest is your choice, of course!
Related Posts