Reviews
Bulbhead Review: Is Bulb Head A Scam?
Last Updated on: January 11, 2023
Bottom Line Upfront
Bulb head is legit, but its customer support is quite disappointing. If you're really interested in buying anything from them, make sure you only buy it from their store on Amazon.
On today's Bulbhead review – A home of bright ideas – as they call it. Let's find out what exactly is Bulbhead. Is it a genuine company? Are the products worth buying? And where can you find Bulbhead products?
What is Bulbhead?
Bulbhead is a place that provides something for everyone. Not only does it provide bright ideas for your home and daily needs, but also it is aimed at providing practical solutions for your day-to-day problems.
Bulbhead is known for its wide range of unique and innovative products. Since their gadgets are relatively uncommon, you'll find tutorials and guides on their website that explain the use of their products.
Product Range
The Bulbhead team selects top-tier products and each of them serves a unique purpose. If you're wondering about their product categories, they are listed below.
Home and Office Supplies
Kitchen and Baking
Gadgets and Tools
Pet Supplies
Entertainment
Cleaning and Organization
Outdoor Living
Auto
Apparel and Industries
Fitness Products
Besides all of this, they also feature products that are invented from scratch by Bulbheads.
Who owns Bulbhead?
The innovative company Bulbhead is owned by an American businessman, Ajit J. Khubani, commonly known as A.J. Khubani. He is also the founder of the 'As Seen on TV' products company, Telebrands. Bulbhead was founded in 2015 with an aim to provide its customers with an excellent online shopping experience.
What is Bulbhead Telebrands?
Bulbhead is a flagship brand launched by Telebrands. Telebrands was initially launched around 25 years ago and its main aim was to advertise 'bright ideas'. They market each product as a story with individual branding of every product.
Bulbhead promotes the very aim of Telebrands by being the "home of bright ideas". With a diverse portfolio of innovative products and gadgets, Bulbhead has made a remarkable retail distribution over the years.
Providing efficient products for everyday problems that usually go unnoticed is a laudable feature of the Bulbhead Store. Just like their Arthritis Gloves are a treat for many.
Where to Buy Bulbhead Products?
A diverse range of Bulbhead products is available on their website. You'll find something as basic as A Posture Corrector. Or even the ever-so-famous Slim Cycle by Bulbhead on their website and their Amazon store. Before buying, you can read a detailed overview of each product on their website that will help you decide the efficacy of the item you're buying.
However, if you're skeptical about purchasing directly from their website, then you can switch to Amazon. Amazon is definitely a more trusted source for online shopping with a lot of verified reviews and purchases. It offers a wide variety of Bulbhead products.
You can get the very comfortable Egg sitter Seat here. Or the Dermasuction Facial Pore Vacuum over here. Also, you can check out the entire store of Bulbhead on Amazon here.
Where Is Bulbhead Located?
Bulbhead does not have an outlet or store anywhere which is why it mainly focuses on delivering a superior online shopping experience.
The headquarters of Telebrands are located in Fairfield, New Jersey, United States and, therefore, also the location of Bulbhead headquarters. The products, however, are available online as well as at major retail chains spread over a network of 120 counties.
How to Contact Bulbhead?
In case of any query, you can contact Bulbhead on their Toll-Free Number at 800-887-2717 from Monday to Friday 7am – 12am. On weekends, the contact timing is limited to 8am – 8pm ET.
Other than this, you can also reach to the team of Bulbhead through the contact form on their website.
Where Are Bulbhead Products Made?
Since the headquarters of Bulbhead and its parent company, Telebrands are situated in Fairfield, New Jersey; the products are also manufactured at the same place.
The company brings its bright ideas to life by creating cost-effective and convenient products. This is the only direct response TV Company with a great number of successful products. Some of their most recognized items are the Pocket Hose, Red Copper, and Hurricane Spin.
Is Bulbhead Legit?
While it is true that Bulbhead has received a lot of negative reviews on the Internet, it is unlikely that the brand is a scam. In our opinion, Bulbhead is a legit website. We cannot guarantee that but our opinion is based on information collected through various sources.
Some customers are definitely not happy with the service, like this one
But Bulbhead products are also offered at Amazon and the reviews at Amazon are quite promising. So maybe some customers have had a hard luck with Bulbhead but calling it a total scam maybe a bit too far-fetched.
Bulbhead Reviews on Reddit
While looking for reviews online, we found some not-so-promising customer responses on Reddit. However, we did note one thing that many people have pre-decided their opinions without even using products from Bulbhead.
This is most likely because people don't really tend to like Telebrands. Therefore, most of the opinions on the internet suggest that Bulbhead may also not be worth it.
Like this person on Reddit is of the view that the products are largely overpriced and not worth the cost.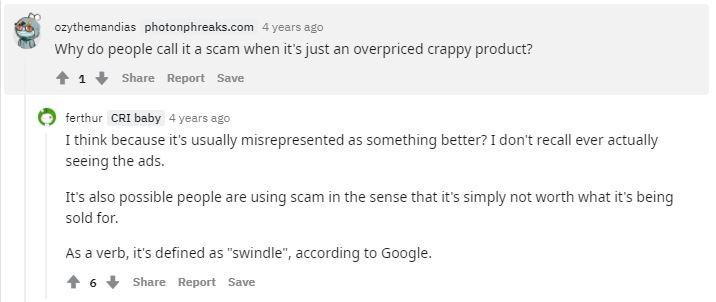 Also mentioned that Bulbhead is not a scam though!
Bulbhead Reviews on Amazon
Contrary to what we've seen all over the Internet, the reviews of Bulbhead products on Amazon are surprisingly very amazing. Most of their items have an average 4-star rating based on thousands of customer ratings.
One of the brightest ideas of Bulbhead 'The Slim Cycle' has a 4.5-star average customer rating based on more than 7k reviews. Check out the detailed reviews on Amazon, here.
Reviews on Amazon are trusted by many. Bulbhead hasn't been able to hold up a good reputation on most of the consumer reviews websites. However, the numbers on Amazon suggest otherwise.
Does Bulbhead Provide Any Guarantee?
As stated on their website, Bulbhead does provide a guarantee. In case you are not satisfied with your purchase, you can ship it back to Bulbhead in its original condition within 30 days after you receive your product.
You may also get a refund of your item but both these conditions apply only if the returned item is in its initial condition at the time of arrival.
What Is The Return Policy Of Bulbhead?
Bulbhead provides a 30-day return policy in case any of its customers is not satisfied with a purchase. However, shipping charges will be deducted from your refund amount.
Product returns are only possible if the item is in its original condition with original packaging and all other parts. The refunds are issued within 5 business days after the arrival of the returned item at the Bulbhead warehouse.
Check out the detailed return/exchange/refund policy of Bulbhead over here.
Bulbhead Cop Cam Review
Copcam is a mini security camera by Bulbhead. This camera features powerful motion sensors that allow it to record HD video as well as audio as soon as motion occurs. It supports night vision. The tiny size of copcam of around 1 square inch allows it to fit anywhere.
Copcam is an affordable alternative to the other market available hard wired hidden security cameras. The 'motion-activated recording' is an innovative feature that saves you from searching through hours long security footage.
The pictures and audio generated by Copcam are pretty average, to be honest. The low light footage is not very promising. Despite that, copcam has some satisfied customers. So it may or may not work for you, depending on what exactly do you need.
Bulbhead Atomic beam Night Vision Glasses Review
These glasses from Bulbhead are designed to provide the most comfortable night vision. They help to reduce the blinding glare from the headlights of the oncoming traffic.
The green lens allows a very clear vision of the road. So safe and comfortable driving at night will never be a problem with these night vision glasses. They're also good for harsh weather conditions such as heavy rain, fog, or snow.
They will help a lot while driving at night. It will be almost as if you're watching an HD TV programme. They work for most of the people. However, they cannot be worn over prescription glasses.
Bulbhead Cookware Review
Cookware from Bulbhead is actually not a bad idea. The Red Copper Pan by Bulbhead is one such product from Bulbhead that'll not make you regret your decision at all.
This copper-infused pan is heat-resistant as well as scratch-resistant. The ceramic coating of this pan does not peel, chip, or flake. The smartly place Aluminum cooking rings ensure the even distribution of heat so no more burnt food in the center anymore.
The surface is non-stick so cooking without spraying oil or butter will be easier than ever.
The overall results of Bulbhead cookware range is pretty good, if not great. But like other products from Bulbhead, the cookware seems to have mixed opinions on the Internet as well.
Bulbhead DermaSuction
This beauty gadget from Bulbhead called DermaSuction is designed to "suck the yuck out of the pores" as claimed by Bulbhead. It is a facial pore vacuum that helps you get rid of all the tough blackheads without the usual pain and effort.
The vacuum of this item removes the dirt and blackheads very efficiently from the pores. Apart from that, the silicone head of this machine helps to get rid of dead skin by exfoliation.
After every use, the skin feels much rejuvenated. This harmless beauty treatment is also very easy to clean. The product works fine overall. It does what it claims.
Conclusion
In the end, we'd say that being a Telebrand, Bulbhead has not been able to develop a good reputation overall. Many people have mixed opinions about Bulbhead products. There definitely are consumers that have had wonderful experiences with Bulbhead. But there are others as well that were just not lucky enough to receive a good package or service from Bulbhead. We cannot guarantee a good experience, however, the return policy of Bulbhead leaves enough room for trying it our though.